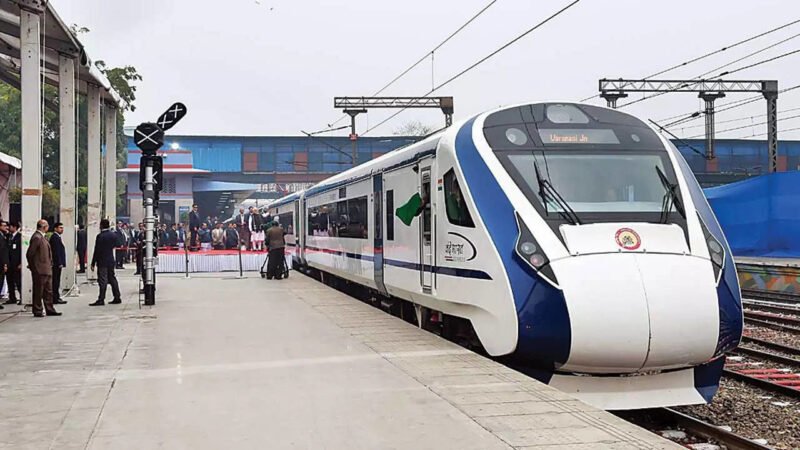 Railway stocks surged on March 2 as companies such as Rail Vikas Nigam, Titagarh Wagons and Bharat Heavy Electricals (BHEL) emerged as the lowest bidders for a tender to manufacture 200 Vande Bharat trains.
BHEL and Titagarh Wagons emerged as the second lowest bidders for tenders to manufacture 200 Vande Bharat trains with a bid amount of Rs 139.8 crore per train.
A consortium consisting of RVNL and Russia's CJSC Transmashholding emerged as the lowest bidder, placing a bid of Rs 120 crore per train for the manufacturing and maintenance of 200 Vande Bharat trains for the next 35 years.
At 10.11 am, shares of Rail Vikas Nigam, Titagarh Wagons and BHEL were trading 3.5-9 percent higher on the National Stock Exchange. RVNL also notched its biggest gains in three months.Under the bid conditions, the lowest bidder would receive the contract for the manufacture,
supply and maintenance of 120 trains, which would be manufactured at the Indian Railways's Latur facility. The second-lowest bidder would manufacture the remaining 80 trains at Chennai if they match the price offered by the lowest bidder.
ICICIdirect, a brokerage firm, believes that if BHEL matches the bid, the company is likely to receive order inflow, providing it with medium-term revenue visibility.
The government has set an ambitious target of manufacturing 400 Vande Bharat trains in India by 2024-25 end and also exporting them to South Africa and some European countries by 2026.
The government allocated a capital outlay of Rs 2.40 lakh crore for the Indian Railways in the Budget 2023-24, which is significantly higher than Rs 1.40 lakh crore in 2022-23.
According to the brokerage, the increased allocation for the Railways presents a substantial opportunity for the entire capital goods sector, including railway companies.